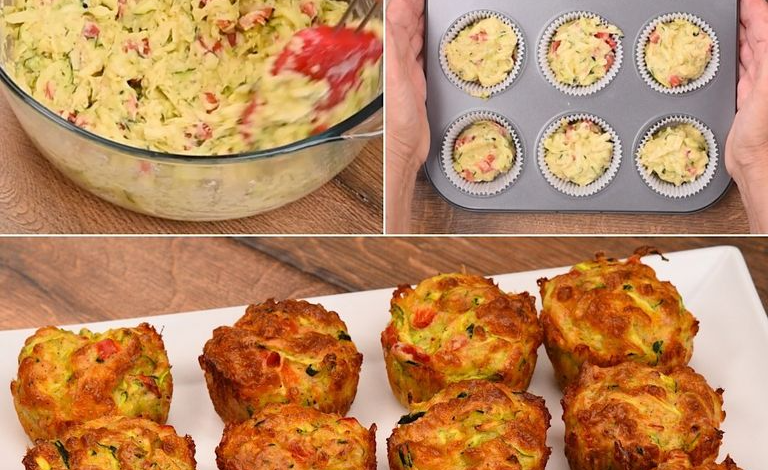 Ingredients:
2 cups almond flour
1/3 cup coconut flour
1/2 cup erythritol (or your preferred keto-friendly sweetener)
1 teaspoon baking powder
1/2 teaspoon baking soda
1/2 teaspoon salt
1 teaspoon ground cinnamon
1/4 teaspoon ground nutmeg
3/4 cup grated zucchini (about 1 medium-sized zucchini)
1/4 cup melted coconut oil (or butter)
3 large eggs
1 teaspoon vanilla extract
1/4 cup unsweetened almond milk (or any low-carb milk of your choice)
Optional: 1/2 cup chopped nuts (like walnuts or pecans)
Instructions:
Preheat your oven to 350°F (175°C). Line a muffin tin with paper liners or grease it well.
In a large mixing bowl, whisk together the almond flour, coconut flour, erythritol, baking powder, baking soda, salt, cinnamon, and nutmeg.
Using a clean kitchen towel or paper towels, squeeze the excess moisture from the grated zucchini.
In a separate bowl, whisk together the melted coconut oil (or butter), eggs, vanilla extract, and almond milk.
Add the wet ingredients to the dry ingredients and mix until well combined. Fold in the grated zucchini and chopped nuts (if using).
Divide the batter evenly among the muffin cups, filling each about 2/3 full.
Bake in the preheated oven for about 20-25 minutes, or until a toothpick inserted into the center of a muffin comes out clean.
Allow the muffins to cool in the muffin tin for about 5 minutes, then transfer them to a wire rack to cool completely.
Enjoy your keto zucchini muffins! Store any leftovers in an airtight container in the refrigerator for up to 3-4 days.
Note: Feel free to adjust the sweetness or add any other keto-friendly ingredients like unsweetened chocolate chips or shredded coconut to suit your taste preferences.
These muffins are a great low-carb option for a delicious treat or a quick snack on a keto diet. Enjoy!