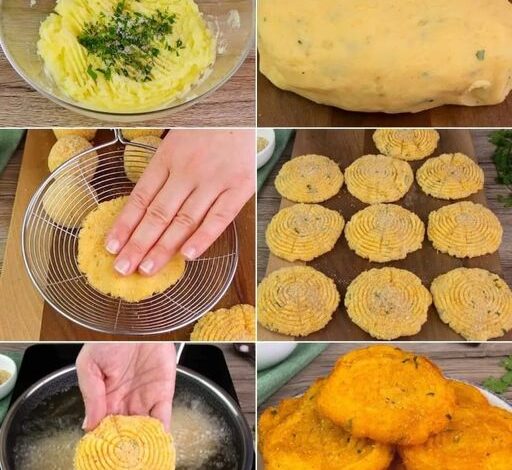 Ingredients:
2 boiled potatoes
Parsley
Salt
Pepper
Peppers
15g cornstarch
120g breadcrumbs
15g Parmesan cheese
1 egg
oil for frying
Preparation:
1. Mash the boiled potatoes until they are still warm with a fork.  Add the parsley, salt, pepper, paprika, cornstarch and mix everything well until the dough is created.  Make balls of the potato mixture.
2. Mix the breadcrumbs with the Parmesan cheese and parsley to make the breadcrumb mixture.
3. Dip each potato ball into the beaten egg and then into the previously prepared breadcrumb mixture.
4. Take each ball and press into the spoon with your hands to fry until the shape is created.  Flip the frying spoon over and hit with your hands so that the potato fritter comes out.
5. Fry in hot oil on both sides until golden.