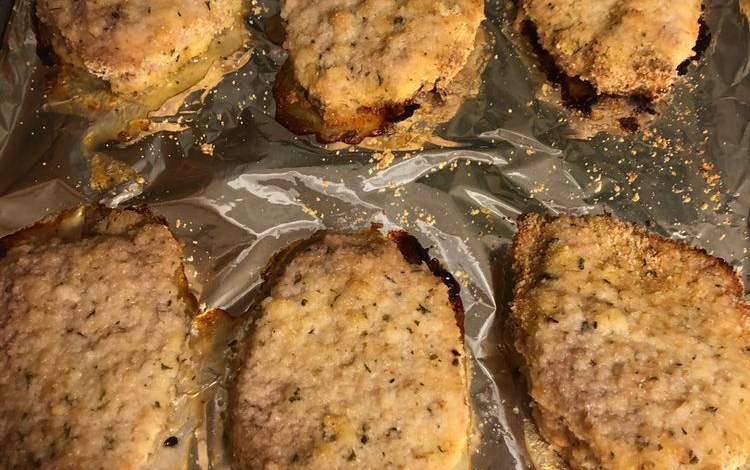 Ingredients:
4 boneless pork chops (about 4 oz each)
1/2 cup grated Parmesan cheese
1/4 cup whole wheat breadcrumbs
1/4 cup panko breadcrumbs (for extra crispiness)
1/2 teaspoon garlic powder
1/2 teaspoon dried oregano
1/2 teaspoon dried basil
1/2 teaspoon dried parsley
1/4 teaspoon salt
1/4 teaspoon black pepper
Cooking spray
Instructions:
Preheat your oven to 375°F (190°C). Line a baking sheet with aluminum foil and lightly coat it with cooking spray.
In a shallow bowl, combine the Parmesan cheese, whole wheat breadcrumbs, panko breadcrumbs, garlic powder, oregano, basil, parsley, salt, and black pepper. Mix well to create your breading mixture.
Take each pork chop and dip it into the breading mixture, pressing the mixture onto the pork chops so it adheres. Make sure both sides are evenly coated. Place the coated pork chops on the prepared baking sheet.
Lightly spray the tops of the pork chops with cooking spray. This will help them brown and crisp up in the oven.
Bake the pork chops in the preheated oven for about 25-30 minutes, or until they are cooked through and the breading is crispy and golden brown. The internal temperature of the pork chops should reach 145°F (63°C).
Once cooked, remove the pork chops from the oven and let them rest for a couple of minutes before serving.
This Weight Watchers Parmesan Pork Chops recipe provides a flavorful and healthier alternative to traditional fried pork chops. Be mindful of portion sizes and any additional sides you serve with them to keep the overall meal in line with your dietary goals. Enjoy!