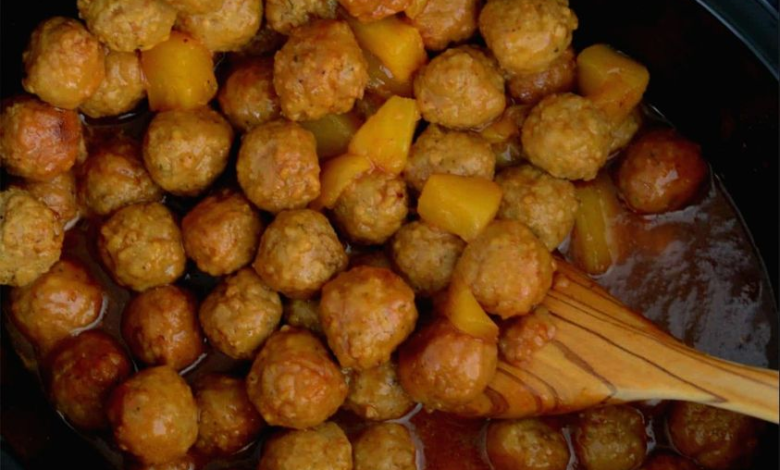 Ingredients:
For the meatballs:
1 pound lean ground turkey or lean ground beef
1/4 cup breadcrumbs (use whole wheat for lower points)
1/4 cup finely diced onion
1/4 cup grated zucchini (for added moisture and nutrition)
1 egg
1/2 teaspoon garlic powder
Salt and pepper to taste
For the BBQ sauce:
1 cup canned crushed pineapple in juice (not syrup)
1/2 cup sugar-free or low-sugar barbecue sauce
1 tablespoon Worcestershire sauce
1 tablespoon apple cider vinegar
1 teaspoon garlic powder
Salt and pepper to taste
Instructions:
Preheat your oven to 375°F (190°C).
In a mixing bowl, combine all the meatball ingredients: ground meat, breadcrumbs, diced onion, grated zucchini, egg, garlic powder, salt, and pepper. Mix until well combined.
Form the mixture into meatballs, using a tablespoon or your hands to shape them. Place the meatballs on a baking sheet lined with parchment paper or a greased baking dish.
Bake the meatballs in the preheated oven for 20-25 minutes or until they are cooked through and browned.
While the meatballs are baking, make the pineapple BBQ sauce. In a saucepan, combine crushed pineapple (with its juice), barbecue sauce, Worcestershire sauce, apple cider vinegar, garlic powder, salt, and pepper. Simmer over low heat for about 10 minutes, stirring occasionally.
Once the meatballs are done, remove them from the oven. You can choose to either mix the meatballs into the sauce or serve the sauce separately as a dipping sauce.
If you mix the meatballs with the sauce, make sure each meatball is coated evenly.
Serve your Pineapple BBQ Meatballs hot, garnished with fresh herbs or a sprinkle of sesame seeds if you like.
Keep in mind that when following Weight Watchers or any other specific diet plan, you should calculate the SmartPoints or other relevant values based on the specific ingredients and serving sizes you use. This recipe is designed to be relatively healthy and Weight Watchers-friendly, but the actual point values will depend on the ingredients you choose