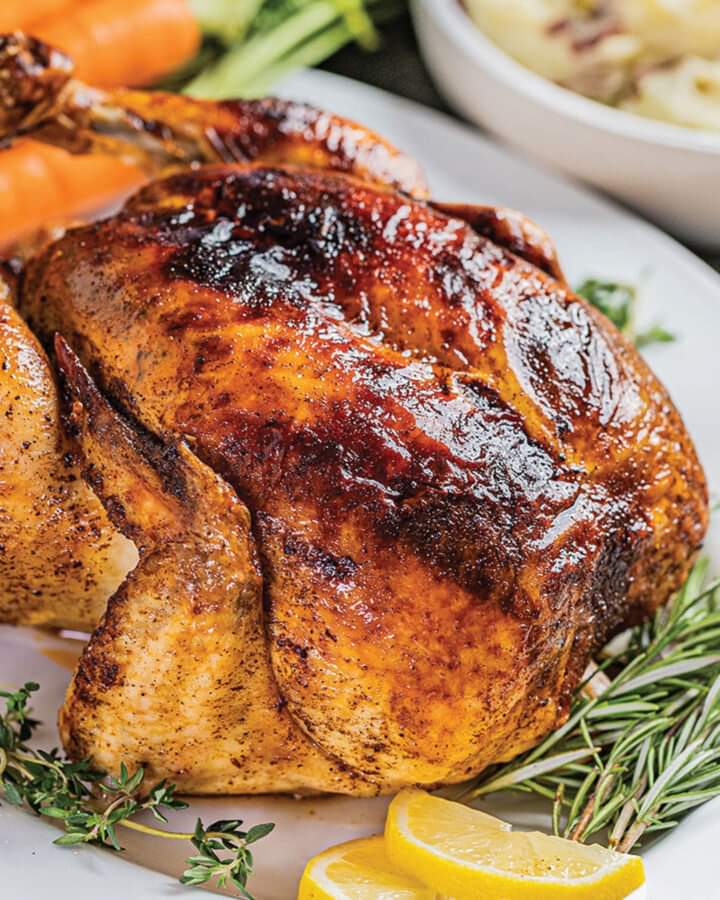 Ingredients
1 whole fryer chicken
1 1/2 teaspoons salt
1 teaspoon dried basil
1 teaspoon dried oregano
1 teaspoon paprika
1/2 teaspoon white pepper
1/2 teaspoon onion powder
1/4 cup softened salted butter
1 large lemon
2 sprigs fresh rosemary
Instructions
Remove chicken from packaging and pat dry using paper towels. Remove any giblets and the neck (if included)..
In a small bowl, stir together salt, basil, oregano, paprika, white pepper, and onion powder. In another small bowl, use a fork to mash softened butter together with 2 teaspoons of the seasoning mixture.
Loosen up the skin on the chicken. You'll be able to slide your fingers under the skin at the openings. Wiggle your fingers in and slide them all around to loosen that skin right up. Place butter mixture underneath skin.
Cut the lemon in half and squeeze the juices directly over the chicken skin. Sprinkle remaining seasoning mixture over the skin to coat. Place the lemon halves and rosemary sprigs inside the cavity of the chicken.
Place chicken breast side up in a roasting pan. Roast for 20 minutes at 450 degrees, then reduce the temperature to 350 degrees and continue roasting for about another 40 minutes. Baste every 20 minutes, if desired.
Remove from the oven when the internal temperature reaches 165 degrees. Use a meat thermometer to check right where the leg connects to the body. Let it rest for about 20 minutes before carving.